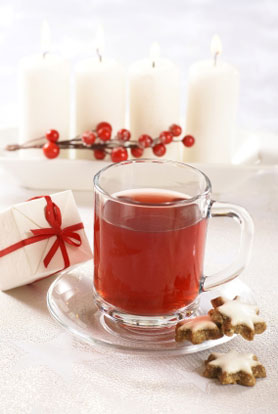 The weather has been playing games on us here in the Midwest jumping back and forth from hot muggy weather to down right cold and nasty weather. The cold just reminds me that the holidays are coming up way faster than I want to think about. After Halloween, Thanksgiving will be here before I know it and then Christmas sneaks up on me before I have a chance to get ready. I am trying to force myself to think about it early this year and start thinking now about gifts and making sure that family traditions are preserved and celebrated during this busy time of the year. Last year we didn't get to bake our Christmas cookies and this year I am planning to make a little family get together out of it. It is funny how many of my family members ask for tea for Christmas presents. I tend to discount it because I am surrounded by it almost every day. I know that every year one of our most given gifts is our
Tea of the Month Clubs
. They offer a chance to try teas that you may not have thought you would like but now you have come love and we make sure every months selections are memorable. Tea sets and teapots are also very popular for Christmas and general holiday gifts. This year when you are looking for the perfect yet budget healthy gifts keep tea in mind. This weeks featured tea
Sugar Plum Cinnamon Spice
is a tea that screams "Is it Christmas yet?".
Sugar Plum Cinnamon Spice tea
has that fruity plum flavor and nicely spiced with cinnamon, allspice and clove which give it that warm and comforting tones. Personally I love this tea as a afternoon tea when your trying to relax and brush off the day.
Save 20% on Sugar Plum Cinnamon Spice Tea this week only.
Save 15% This Week!
Coupon Code: OCT112011
Expires: 10/18/11
http://www.culinaryteas.com